Why Choose A Hyundai For Your Lifestyle | Topeka, KS
Lease a Highline Hyundai for Your Sophisticated Lifestyle
Whether you prefer a sedan or SUV profile, a highline Hyundai is the perfect match for your refined lifestyle in Topeka, KS.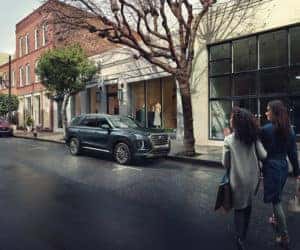 Sophisticated styling
Leasing a top trim level of some of Hyundai's most luxurious models means you will have the fanciest of the fanciest when it comes to exterior and interior styling to match your sophisticated lifestyle. The top-of-the-line Hyundai Palisade Calligraphy, for example, rides on 20-inch alloy wheels and boasts front and rear fascias; inside, you'll find quilted leather interior door panels.
State-of-the-art tech
Leasing a top-trim-level Hyundai model also means you will have the most advanced safety and infotainment technologies. Technology evolves so fast, which is why it's such a good idea to lease—you'll always have access to the newest tech without the hassle of buying and selling every few years.
So what does this state-of-the-art tech look like? Let's take a spin in the Hyundai Sonata Limited (the only trim in the lineup with leather seats, may we add) for a taste of the infotainment features. The Sonata Limited delivers, standard, the Bose® premium audio system with 12 speakers. You'll also utilize a 10.25-inch color touch screen for navigation, audio, and hands-free phone function via Apple CarPlay® and Android Auto™.
And what about safety? Just check out the Hyundai Santa Fe Calligraphy for an understanding of how advanced top-trim-level safety features can be.
This model's long list of standard safety technologies include the following:
• Electronic Stability Control with Traction Control and Brake Assist
• Anti-lock Braking System
• LATCH for children
• Blind-Spot Collision-Avoidance Assist
• Rear Cross-Traffic Collision-Avoidance Assist
• Parking Distance Warning – Forward and Reverse
• Remote Start Parking Assist
• Forward Collision-Avoidance Assist (with Pedestrian, Cyclist, and Junction Turning Detection)
• Ultrasonic Rear Occupant Alert
• Smart Cruise Control with Stop & Go
• Lane Keeping Assist
• Driver Attention Warning
• Safe Exit Assist
• Highway Driving Assist
• Lane Following Assist
• Blind Spot View Monitor
And when you lease an upscale, top-trim Hyundai model at Laird Noller Topeka Hyundai in Topeka, Kansas, you will be able to swap out in just a few years, ensuring you have always got the latest design at your fingertips.
Why Buy a New Hyundai for Your Empty-Nester Life Phase
Your final child has left the nest, and now you and perhaps your partner are ready to enter the next phase of your life. Whatever way you plan to spend this next chapter in your life, you deserve a sporty car or luxurious SUV from Hyundai to take you where you want to go.
Sophisticated styling
If you plan to live out your empty-nester life phase right here in Topeka, Kansas, you are probably looking for something to suit your newfound sophisticated lifestyle. The Elantra compact sedan or the soon-to-arrive Elantra N (a high-performance version of the Elantra) are elegantly styled with an upscale interior. In fact, the Hyundai Elantra was named the 2021 North American Car of the Year thanks to its progressive design as well as its innovative technology, especially when it comes to wireless.
Efficiency for future generations
Leaving the world better than you found it is an admirable purpose. If you expect grandchildren in the coming years, it can feel even more important to join the battle against climate change. Hyundai offers a wide range of hybrid, plug-in hybrid, and fully electric vehicles that offer insanely good fuel economy and leave a smaller carbon footprint.
Head to Laird Noller Topeka Hyundai to order one of our efficient models:
Hyundai Kona Electric
Hyundai Tucson Hybrid
Hyundai Santa Fe Hybrid
Hyundai Santa Fe Plug-in Hybrid
Hyundai IONIQ 5
Hyundai NEXO Fuel Cell
Hyundai Elantra Hybrid
Hyundai Sonata Hybrid
Hyundai IONIQ Hybrid
Hyundai IONIQ Plug-in Hybrid
Hyundai IONIQ Electric
Built for travel
If this next stage of your journey is all about life on the open road, consider one of Hyundai's spacious crossovers or SUVs. And don't worry about fuel economy: Of those fully or partially electrified vehicles (or hydrogen-powered) mentioned, six are SUVs, meaning Hyundai emphasizes efficient sports utility vehicles. Hyundai SUVs are also meant to haul heavy loads, perfect if you plan to bring along a trailer or boat.
The Hyundai Palisade, for example, can tow up to 5,000 pounds when you get it with the trailer brakes. And the new Santa Cruz, with its versatile pickup bed, is great for outdoor enthusiasts with plenty of gear. What're you waiting for? Adventure awaits!
Why Buy a New Hyundai for Your Young Family
The Hyundai lineup makes it easy to choose the right vehicle for your young family in Topeka. Whether you're seeking a sedan or an SUV, you can count on peace of mind, value, and versatility when you entrust your loved ones to a Hyundai.
Advanced Safety
Hyundai vehicles are proven winners when it comes to crash safety and driver-assist technology. The brand's Elantra and Sonata sedans have Top Safety Pick ratings from the IIHS, while the Tucson and Santa Fe SUVs both own Top Safety Pick+ awards.
To keep you and your family protected, most of Hyundai's top models come equipped with an array of standard SmartSense features. These include Forward Collision-Avoidance Assist, Lane Keeping and Lane Following Assist, and Driver Attention Warning. Rear Occupant Alert also comes standard so you'll never have to worry about leaving anyone behind in the back seat. Advanced options like Rear Cross-Traffic Collision-Avoidance Assist, Blind-Spot Collision-Avoidance Assist, and Highway Drive Assist are also available to boost your confidence on the go.
Incredible Value and Reliability
When you buy a new vehicle at Laird Noller Topeka Hyundai, outstanding value and reliability are part of the deal. No matter which Hyundai model and trim level you choose for your family, you can expect an intuitive touch-screen infotainment system with Apple CarPlay® and Android Auto™ smartphone integration. New Hyundai vehicles are also covered by America's Best Warranty: 5 years or 60,000 miles for the whole vehicle and 10 years or 100,000 miles for the powertrain. With coverage like this, it's clear that Hyundai vehicles are built to last.
Versatile Comfort
Versatility and comfort come standard across the Hyundai lineup. Comfortable cloth seats and generous headroom and legroom keep passengers of all ages happy. In SUVs like the Tucson and Santa Fe, split-folding second rows give you plenty of flexibility for carrying extra cargo. Available options like power-adjustable front seats, heated rear seats, leather upholstery, and dual-zone automatic climate control make the Hyundai driving experience even more enjoyable for the whole family.
Why Buy a New Hyundai for Your Young Professional Lifestyle
As a young professional in Topeka, you need a vehicle that looks great, gives you the latest tech to stay informed and in touch, and doesn't cost too much. That's where Hyundai comes in. Our lineup here at Laird Noller Topeka Hyundai is loaded with sedans and small SUVs designed to make a strong impression while going easy on your budget.
Standout Style
Hyundai vehicles are designed to make a positive impression while helping you express yourself. If you're looking for a sedan that's stylish but not flashy, distinguished but not dull, it's hard to do better than the compact Elantra or midsize Sonata. Alloy wheels, stunning grille designs, LED lighting, and athletic sculpting help these models stand out wherever you go.
Hyundai also sells a wide variety of stylish SUVs. The compact Venue and Kona are just the right size for urban driving, and they each have their own distinct personality. The Venue boasts an available contrast roof and colorful paint options like Green Apple and Denim. The Kona shows off a sleeker, sportier look and its own lineup of unique colors.
Cutting-Edge Tech
Whether you need a safe way to take work calls on the go or just want to catch up on your favorite podcasts, Hyundai vehicles give you the intuitive, advanced tech you need. Most models come standard with a 7-inch or 8-inch touch screen, Android Auto™ and Apple CarPlay®, and Bluetooth® hands-free calling. Higher trims also offer add-ons like Bluelink® connected services, SiriusXM® satellite radio, and built-in navigation. If you really want to make an impression, opt for a model that offers Remote Smart Parking Assist and Hyundai Digital Key (which lets you share access to your vehicle via text).
Affordable Quality
Even if you don't have a ton of money to spend, you'll find plenty of affordable vehicles in the Hyundai lineup. For example, the Venue and the Elantra both sell for a starting MSRP that's under $20,000, and the Kona is only a few thousand dollars more. Hyundai also sells several efficient hybrid gas-electric models to help you save money on gas. The Elantra, Sonata, Tucson, and Santa Fe are all available as hybrids, and the IONIQ lineup includes hybrid, plug-in hybrid, and electric choices.